With the rise of video communication, there is no better time than now to take advantage of the powerful LinkedIn video messaging tool. This platform now enables you to connect and communicate with colleagues, clients, and potential employers worldwide, giving it huge potential for networking and business opportunities.
If you're ready to take advantage of the ever-growing possibilities of digital networking with LinkedIn video messaging, you're at the right place. Join us as we explore this powerful feature and discover how you can use it to its fullest capacity.
In this complete guide, we will discuss how LinkedIn video messaging is invaluable and how you can use it effectively to network.
So let's dive deeper and help you generate video messages that are effective in engaging prospects.
What Is LinkedIn Video Messaging?
LinkedIn video messaging is a feature that allows users to send video messages directly through the platform. This messaging service allows you to communicate with other professionals more efficiently without leaving LinkedIn or emailing someone back and forth.
This feature lets you start conversations without worrying about time zones or language barriers. Moreover, anyone with an active LinkedIn account can use this messaging service – whether they are existing contacts or potential new connections who don't yet know each other personally or professionally.
The only caveat here is that all participants must have either accepted or requested contact information from each other before accessing and using this feature on their accounts.
How to Send Video Messages on LinkedIn?
LinkedIn messages let you communicate with potential employers, colleagues, and other professionals. But if you want to stand out from the competition and make a lasting impression, consider sending a LinkedIn video message instead.
Here are some quick steps you can follow to do LinkedIn video messaging:
1. Get the App
You'll need to download the official LinkedIn app from the Apple Store or Google Playstore to get started. Once installed, open it and log in using your account information.
For mobile users, a dedicated app called "LinkedIn Video" is also available for iOS and Android devices. Once installed, you can easily access all of your conversations in one place and create new ones by tapping the "+" icon in the top right corner of the screen.
2. Find the Recipient
Once you've logged into your account, navigate to the recipient's profile page and click "Message" at the top of their profile. This will open up an empty conversation box you can type into before sending your video message.
3. Record Your Message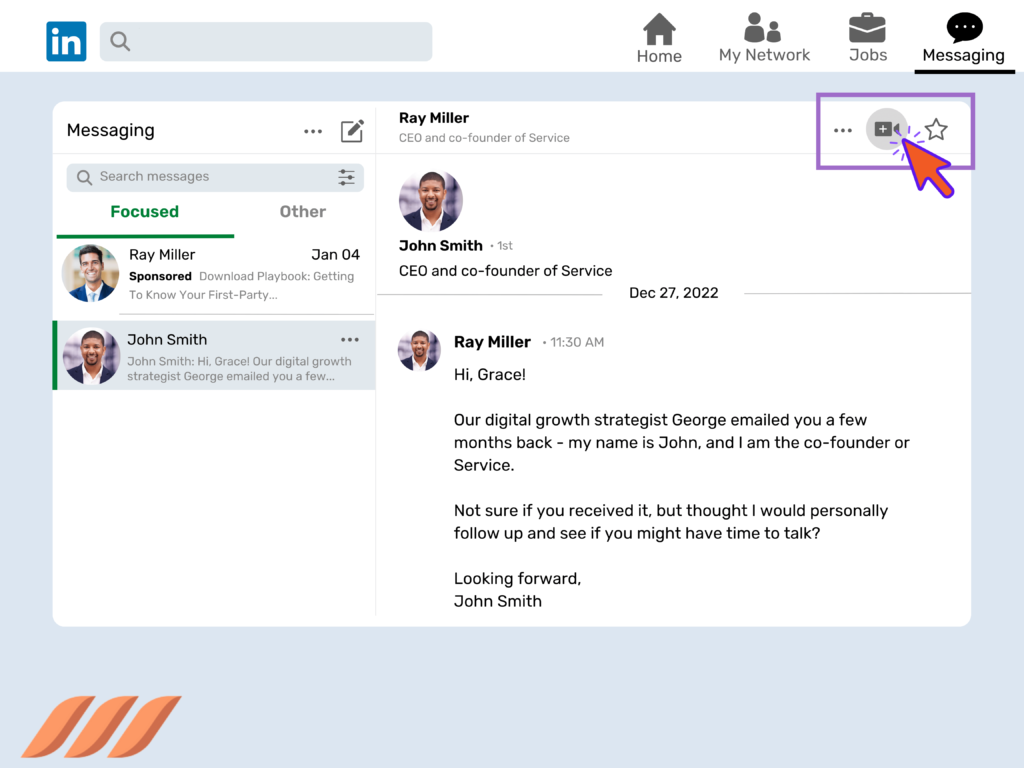 In your conversation box, you will see an icon labeled "Video Message." Clicking this icon will open your camera to record your message like a regular video call.
To access the video messaging feature on your desktop, click on the messenger icon in the top right corner of the page. This step will take you to an instant message window where you can select "Video" from the list of options in the upper right-hand corner.
When you're finished recording your message, click "Send" at the bottom right corner of the screen to deliver it to the recipient.
4. Check Your Notifications
Once you have sent off your video message, all that's left to do is check your notifications for replies. If they haven't responded, don't worry; they may be busy or haven't seen it yet.
Best Practices for Sending LinkedIn Messages
You want to ensure that your messages are well-received and able to generate responses. For this, you must follow a few best practices for sending LinkedIn messages.
Let's look at some of the most effective ways to send LinkedIn messages:
1. Personalize Your Messages
Cookie-cutter videos without a personal touch won't bring much traction to your LinkedIn outreach strategies. So, remember that the person who receives your message is an actual person — not just an email address or username.
Try including the recipient's name in your message's subject line and body and referencing something specific about their profile or background to make it more personal.
2. Be Clear and Concise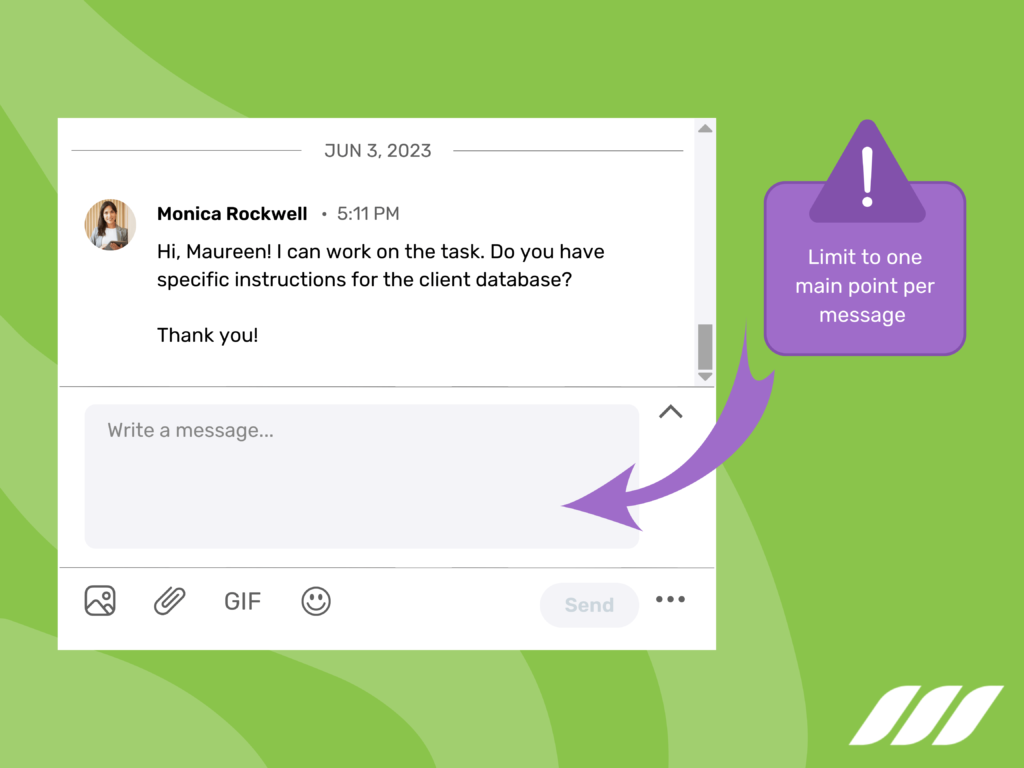 When sending a LinkedIn message, you don't want it to be too long or confusing. It is always a good idea to get to the point and explain why you are reaching out in as few words as possible.
Plus, try limiting yourself to one main point per message so your recipient understands exactly what you are asking for.
3. Follow Up Appropriately
Sometimes people respond later, especially if they are busy professionals with a lot on their plate. If someone replies within a reasonable time (2-3 days), try sending them a polite follow-up message.
This will show them that you are serious about getting in touch and remind them of your original request without appearing too pushy or intrusive.
4. End on a Positive Note
While ending your message, you must do it positively by thanking the recipient for their time or telling them how much you appreciate their help, advice, etc.
This will leave your recipient with an overall positive impression of your interaction, which can go a long way toward building relationships.
4 Best Tools for Video Messaging on LinkedIn
You're aware that video messaging is invaluable for personal and professional networking. It allows you to connect with people more meaningfully than text or audio alone. And LinkedIn is one of the best places to get started with video messaging.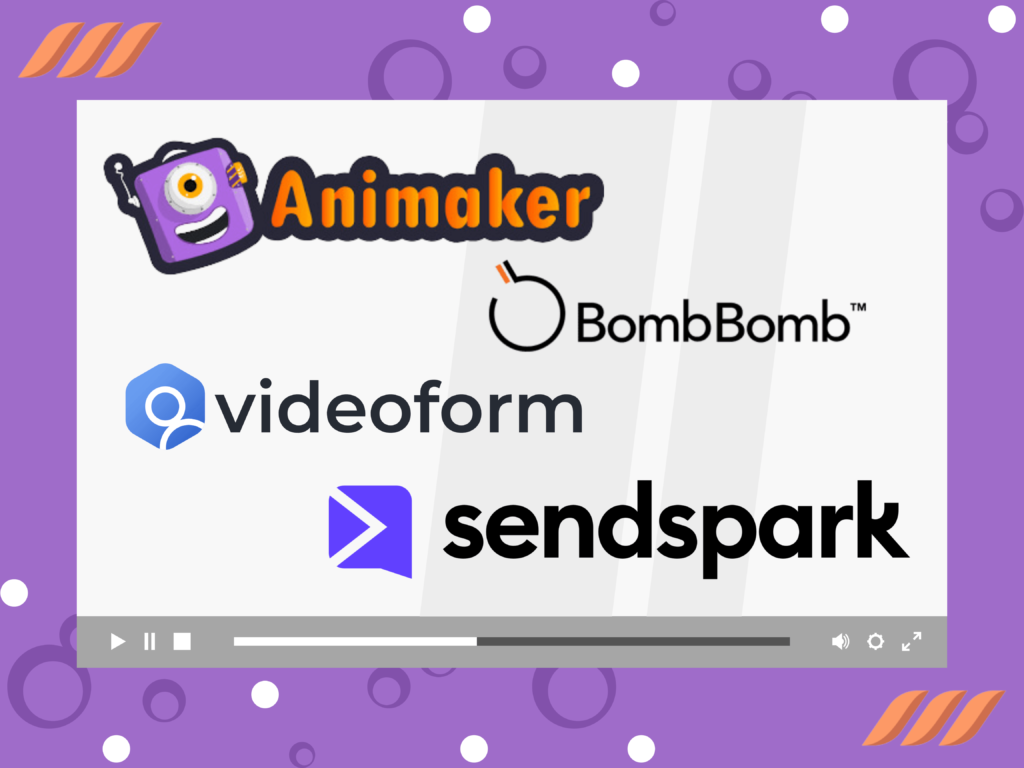 Here are the best tools for video messaging on LinkedIn:
1. Sendspark
Sendspark is a unique video-making extension allowing you to create personalized videos easily for any platform, including LinkedIn. All you need to do is upload an image or logo, record a message using your phone or computer's microphone, then send it off.
Plus, before sending, you can customize your videos by adding music, thumbnails, or text overlays.
2. Bombomb
Bombomb is another platform where you can generate high-quality videos using templates explicitly designed for social media platforms like LinkedIn.
This tool allows you to add images, logos, animations, and more to ensure your videos are eye-catching and professional. Bombomb also offers many customization options to tailor each video specifically for the person viewing it.
3. Video Form
You don't want to risk the quality of your LinkedIn video messaging, do you? No sweat because Video Form will solve this issue.
This comprehensive video marketing solution includes powerful tools for creating customized content quickly and easily. Through this tool, you can make interactive experiences such as clickable CTAs in the middle of a video and personalized messages at the end of each one.
Again, you can add polls or quizzes after watching a video so viewers can provide feedback about what they found helpful or interesting in your content.
4. Animaker
Animaker for LinkedIn video messaging has you covered if you're fond of animated videos. It's an easy-to-use animation maker that lets you create engaging animated videos without prior animation or design experience.
Animaker provides an extensive library of over 2 million assets, including characters, backgrounds, props, and effects, which all help bring life into your animated videos.
Also, you can customize your animations by adding voiceovers or background music before sharing them directly on LinkedIn!
How to Make Good LinkedIn Video Messages?
Whether you're trying to attract employers with a job search or grow your professional network, well-crafted video messages can help you make meaningful connections on LinkedIn.
Here's how you can create effective video messages for LinkedIn:
Optimize Your Profile
Before you even think about creating a video message, ensure your profile is up-to-date and optimized for success.
Improve your LinkedIn profile including a professional headshot, writing an engaging seo- optimized bio, and adding relevant experiences and skills. Doing so will give potential employers or contacts an idea of who you are before they watch your video message.
Choose Your Platform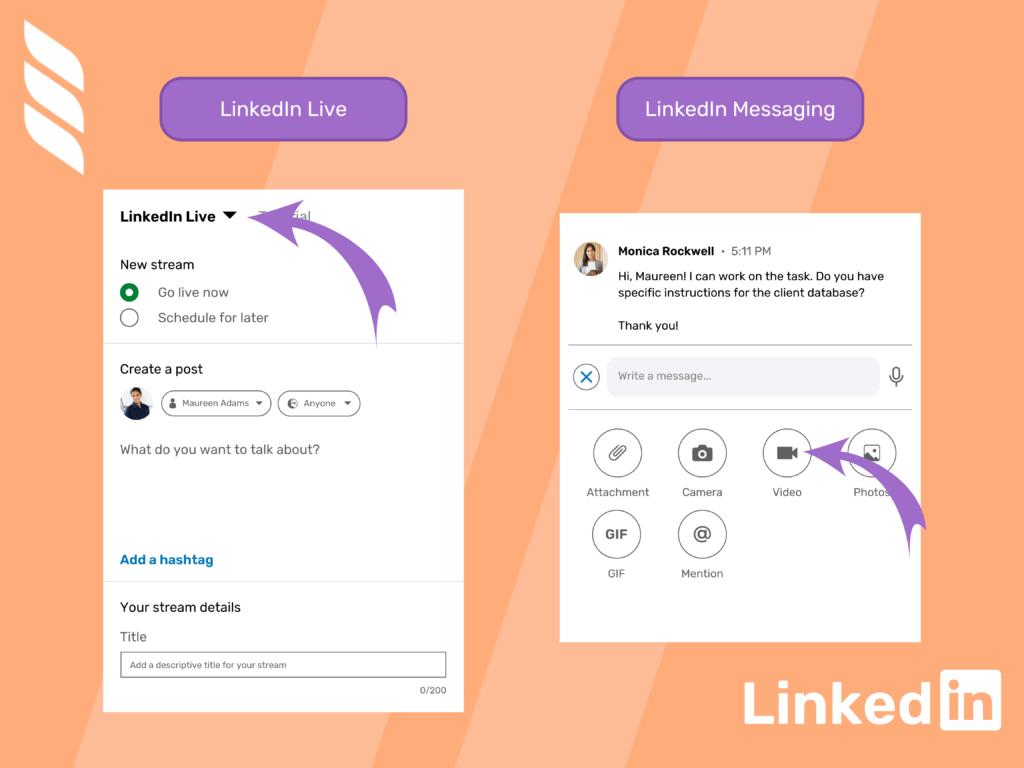 LinkedIn offers two options for creating and sending video messages — Messaging and LinkedIn Live. Messaging allows you to record and send videos up to ten minutes in length via direct message.
If you're looking for something more interactive, consider investing in a streaming platform like LinkedIn Live, which allows multiple people to stream live and engage with each other in real time.
Craft Your Content
Once you decide which platform best suits your needs, it's time to craft your message.
Start by introducing yourself, explaining why viewers should watch your video, and include any relevant information that might be helpful (such as links). Keep it concise – no one wants to watch a long-winded presentation.
Remember to stay professional; this isn't the place for silly jokes or off-the-cuff remarks – save those for social media.
Edit & Publish
Now that you have all the content ready to go, it's time to edit. Make sure that transitions between slides are smooth and seamless so that viewers understand and are focused while watching your message.
Additionally, review all audio levels before publishing; nothing is worse than having viewers struggle to hear what is being said in a poorly recorded video. Once everything looks good, hit publish – and that's all.
What Video Formats Is LinkedIn Compatible With?
If you want to upload videos to LinkedIn, remember the file size limits and duration requirements. The maximum file size for videos uploaded directly to LinkedIn is 5GB, and the maximum duration for videos uploaded directly is 10 minutes.
You can upload larger files, as long as they're less than 200GB, but you'll have to host them on a third-party site such as YouTube or Vimeo.
Also, remember that LinkedIn supports only certain video formats. MP4, MOV, and AVI files are acceptable video formats for uploading directly to the platform.
Send Personalized Messages on LinkedIn With Dripify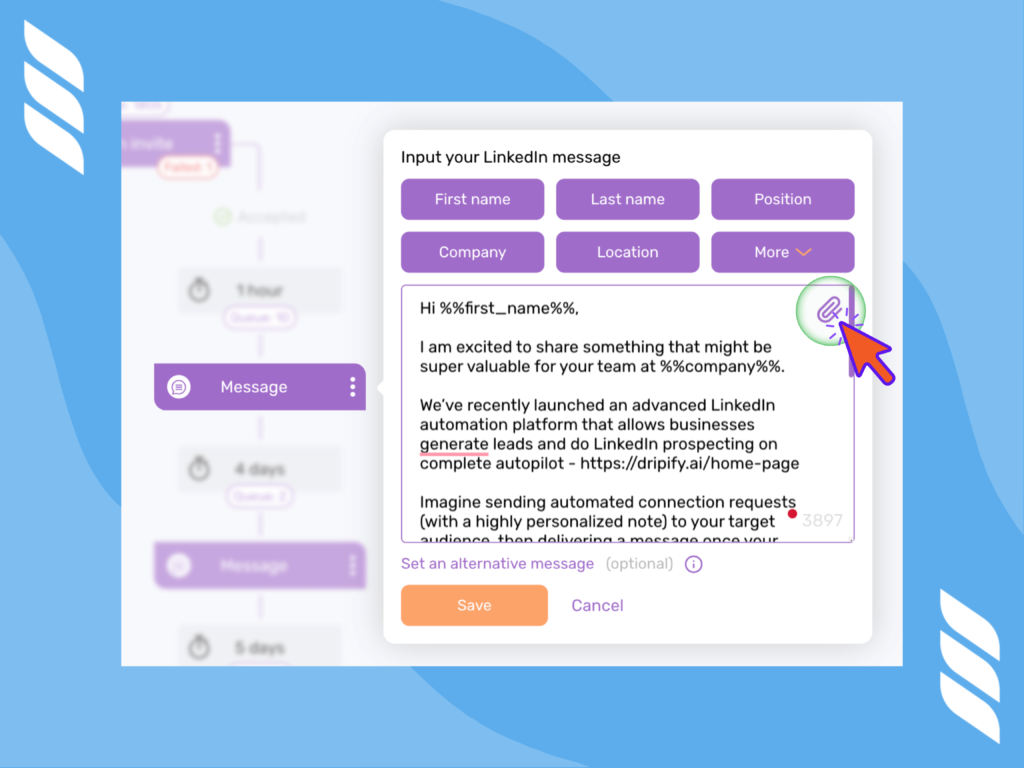 Don't want to spend hours generating campaigns on LinkedIn? No sweat because the Dripify sales automation tool has you covered.
This hands-on tool lets you easily manage multiple accounts, set up reminders and notifications, and schedule messages to go out at specific times or days of the week.
One of the key benefits of using Dripify for your LinkedIn outreach is that it allows you to send highly personalized messages that stand out from the competition.
With Dripify, you can use pre-made templates or create custom messages tailored specifically for each recipient. Add images, videos, and GIFs to ensure your message stands out.
What is the best thing about Dripify LinkedIn automation?
Well, you don't have to stress about follow-up messages. It helps you maintain relationships with potential customers or partners by ensuring that no one falls through the cracks due to a lack of response or time constraints.
Conclusion
LinkedIn video messaging has quickly become the most powerful tool in the communication arsenal of many professionals. If you feel your connection requests have been left unanswered and your content is not getting the traction it deserves, try sending a personalized video message.
LinkedIn video messaging will help you make an impression and boost your profile's credibility with potential partners and leads through the performance of video on LinkedIn.
Remember, strong relationships start with an amazing first impression, which can be found through effective video messaging on LinkedIn.