Marketers' playbooks are full of standard marketing tactics, such as email drip campaigns, that can be used to drive leads, traffic, and sales. Drip campaigns are sequences of emails sent to specific targets at specific times with a specific message.
Each message in a drip campaign contains links to resources such as blog posts or videos. A well-executed drip campaign increases conversion rates by keeping your audience engaged and interested until they take the desired action.
That said, it is vital for any marketer or sales professional to know what goes into creating an effective and successful email drip campaign.
This post will explain a drip campaign and why it works so well for marketers. We'll also discuss the benefits and different types of drip campaigns. And finally, we'll give you examples of the best email drip campaigns. Keep reading to find out more!
What Is a Drip Campaign?
A drip campaign is an email marketing strategy where you send emails over time rather than all at once. This allows you to track your email's open rates and click-through rates, which can help optimize your campaign.
There are a few things to keep in mind when planning a drip campaign:
1. Start Small
If you're new to drip campaigns, start with a smaller set of emails and work your way up. This way, you can test the water before potentially investing in more complex campaigns.
2. Recipients Should Be Consistent
Ensure every recipient receives the same series of emails, no matter what day or time it is sent from your account. Doing so will help you better track engagement and conversion rates across all recipients.
3. React Quickly to Feedback
Keep an eye on your open and click-through rates, and make any necessary changes to your campaign as soon as you notice any drift in performance. It's important to respond quickly to keep your readers engaged and motivated!
Why Do You Need a Drip Campaign?
You need a drip campaign because it saves a lot of resources, like time and money. In a drip campaign, you send out a series of emails based on the actions of your subscribers, customers, or readers.
This method effectively allows you to build trust with your target audience. And it leads them to believe you are trustworthy and not a spammer.
An email drip campaign helps you:
Build your email list effectively.
Automate time-consuming tasks.
Get more people to take action.
Segment your target audience.
Now, let's dive into the types of email drip campaigns.
Types of Email Drip Campaigns
There are a few different types of email drip campaigns you can use, depending on your business's needs:
1. Welcome Email Drip Campaign
This campaign welcomes new subscribers to your email list and introduces them to your brand. It typically includes a series of introductory emails that provide more information about your business, products, or services.
2. Engagement Drip Campaign
An engagement drip campaign helps you encourage recipients to take action, such as clicking through to a landing page or making a purchase. It includes emails sent in response to recipient behavior, such as clicking a link or opening an email.
3. Contest Drip Campaign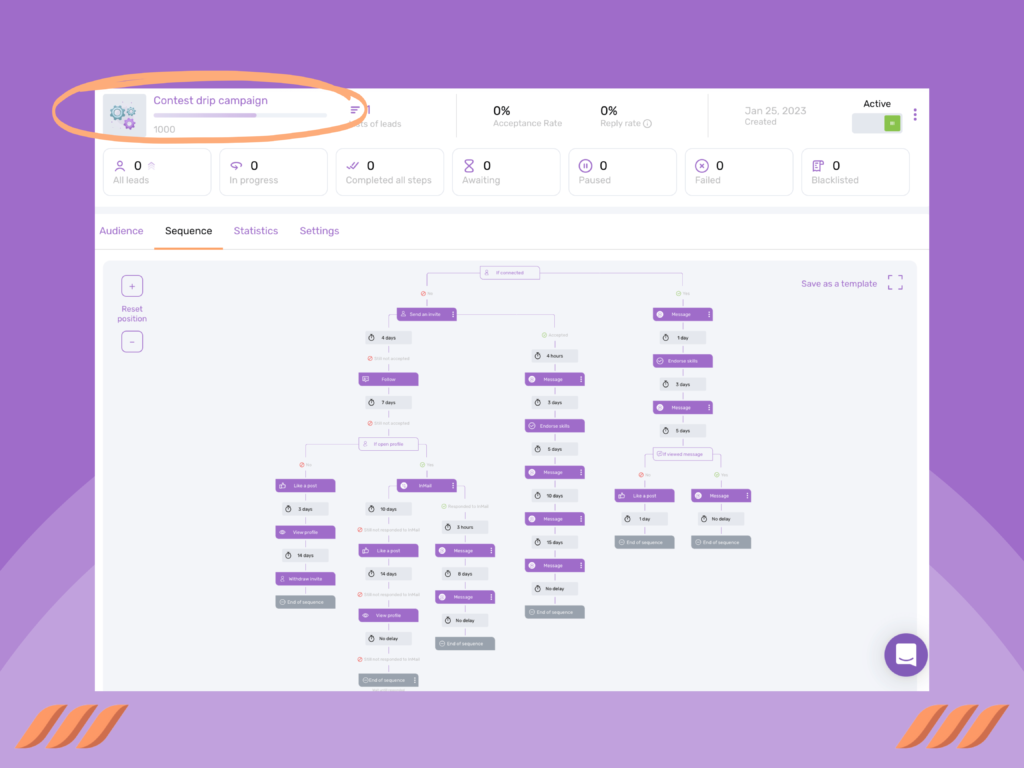 A contest drip campaign is designed to promote a contest or giveaway that you're running on your website or social media channels. It typically includes a series of emails that provide information about the contest and how to enter it.
4. Announcement Drip Campaign
With an announcement drip campaign, you can announce new products, services, or updates to your existing products or services. Generally, it includes a series of emails that provide information about the announcement and how it will benefit your customers or readers.
5. Retargeting Email Campaign
A retargeting email campaign is probably the most crucial type! It helps you retarget people who have visited your website or landing page but did not buy.
Retargeting campaigns include email series like special discounts, follow-up calls, or other incentives for recipients to buy. It encourages people to consider buying what you're selling and helps give them a push in the right direction.
6. Abandoned Cart Campaign
With an abandoned cart campaign, you, as a business, are trying to communicate with people who have added items to their online shopping carts but did not complete the purchase.
Clear communication helps them finish their purchase. You can do it with a series of emails that provide details about each item in their cart and information about how much time they have left to buy.
7. After Sale Drip Campaign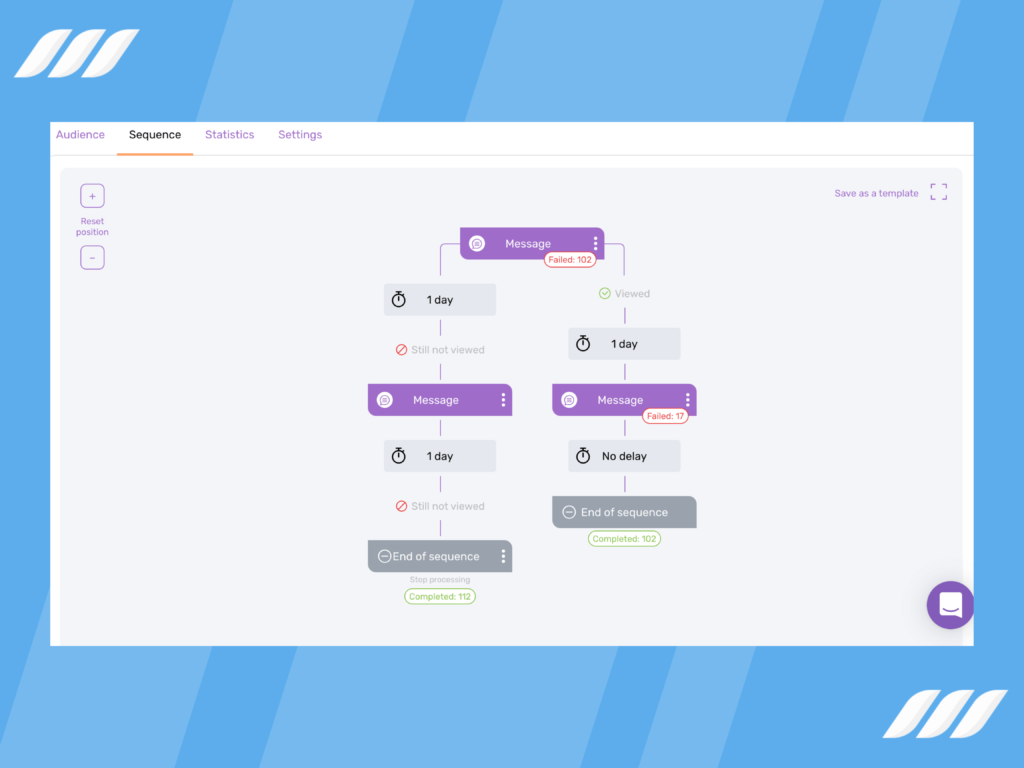 You don't want your customers to abandon your cart, do you? You surely don't! In the same way, customers don't want you to abandon them after they buy something from you.
That's where the after sale drip campaign comes in! It sends follow-up emails to customers to encourage them to buy again, refer to your products or services, or engage with you on social media.
You can also ask them for feedback to improve your products or services. An after-sale drip campaign may have a series of emails that help you keep in touch with customers and build your relationship over time.
8. Lead Nurturing Email Drip Campaign
If you want to generate more leads, nurture them into customers over time with a lead-nurturing email drip campaign. You can use emails that provide valuable information about your business and its products or services.
In addition to building trust with potential customers, a lead nurturing campaign helps you understand your leads' needs and preferences. And it allows you to target them better in the future.
9. Unsubscribe Campaign
Last but not least, an unsubscribe campaign is a great way to reduce the number of spam complaints and unsubscribes you get from your email list.
With an unsubscribe campaign, you send emails on how to easily opt out of your list if they no longer want to receive emails from you. This helps keep your list clean and helps you maintain strong relationships with your customers.
So, if you want to build a successful email marketing strategy, consider implementing one or more of these drip campaign types in your business. They'll help you connect with your audience and get the results that you're looking for!
Benefits of Email Drip Campaign
A drip campaign is one of the most popular email marketing strategies because it's efficient and allows you to personalize your messages for each individual.
Here're the top benefits of email drip campaigns:
1. Get Results More Efficiently
Drip campaigns are designed to send a series of emails over a while instead of blasting out all at once. This allows you to craft more personal, effective emails that will reach your customers faster and generate more response rates.
2. Personalize Your Customer's Experience
With drip campaign automated content generation tools and A/B testing, you can create personalized messages for each customer using their unique data. This ensures that your customers feel like you're personally addressing them and helping them with their specific needs or questions.
3. Generate Higher Response Rates
By sending small doses of information over time, you're far more likely to get a response from your customers than if you sent them an entire mailing at once.
Remember, people generally have less time to spend on email these days, so they're quicker to read the relevant message and filter out irrelevant ads or spammy content.
Related article: Increase Your B2B Cold Email Response Rates
4. Promote Relevant Content Easily
When you know where your customers are in their buying process, it's easy to send them articles, blog posts, or other helpful resources. This way, they can get the most out of your products and services without any need for you to interfere.
5. Create an Efficient Marketing Funnel
Creating a marketing funnel that takes leads through the entire customer journey, from initial awareness to purchase and beyond, is vital for all B2B businesses. Email drip campaigns allow you to nurture your leads through the sales funnel and eventually turn them into customers.
Creating a strong email drip campaign is one of the most important aspects of an effective marketing funnel. This involves sending automated emails to each lead at various stages in their journey, from initial awareness to purchasing your product or service.
6. Measure Results Quickly and Easily
Drip campaigns are easy to track, so you can see how your customers respond and make necessary adjustments to your messaging or marketing strategy.
7. Increase Loyalty and Repeat Business
By providing valuable, useful content and engaging with your customers personally, you're more likely to keep them as customers and generate more repeat business.
This means higher profits and more satisfied customers who may recommend your business to their friends.
Top 3 Ingredients of a Successful Drip Campaign
Many elements go into making a drip campaign successful, but the most important thing is to address your pain points and achieve your goals.
Ask yourself these questions:
Do you need to onboard users smoothly?
Why are one-time visitors not coming back to your site?
Do you need to work on abandoned carts?
Primarily, you must work on important ingredients, such as a targeted list, quality content, and consistent marketing.
1. Targeted List
Your list must be specifically directed at your target audience. This means you need to research who your ideal customers are and ensure the content you produce is relevant and engaging to them.
2. Quality Content
Especially when promoting a new product or service, your content must be high-quality and engaging. This means providing interesting information, answering common questions, and giving users enough insight to make an informed decision.
3. Consistent Marketing
Constant promotion is key to driving traffic and conversions through your drip campaign. You must ensure that your content is constantly shared on social media, featured on other websites, and highlighted in email campaigns.
Overall, a successful drip campaign relies on targeting your audience, producing high-quality content, and promoting it consistently.
How to Create a Drip Email Campaign?
By now, you have a good idea of a drip email campaign and why it's important for your business. Now, let's look at seven key steps to create an effective drip campaign before we dive into the best email drip campaign examples.
Let's start!
1. Research Your Audience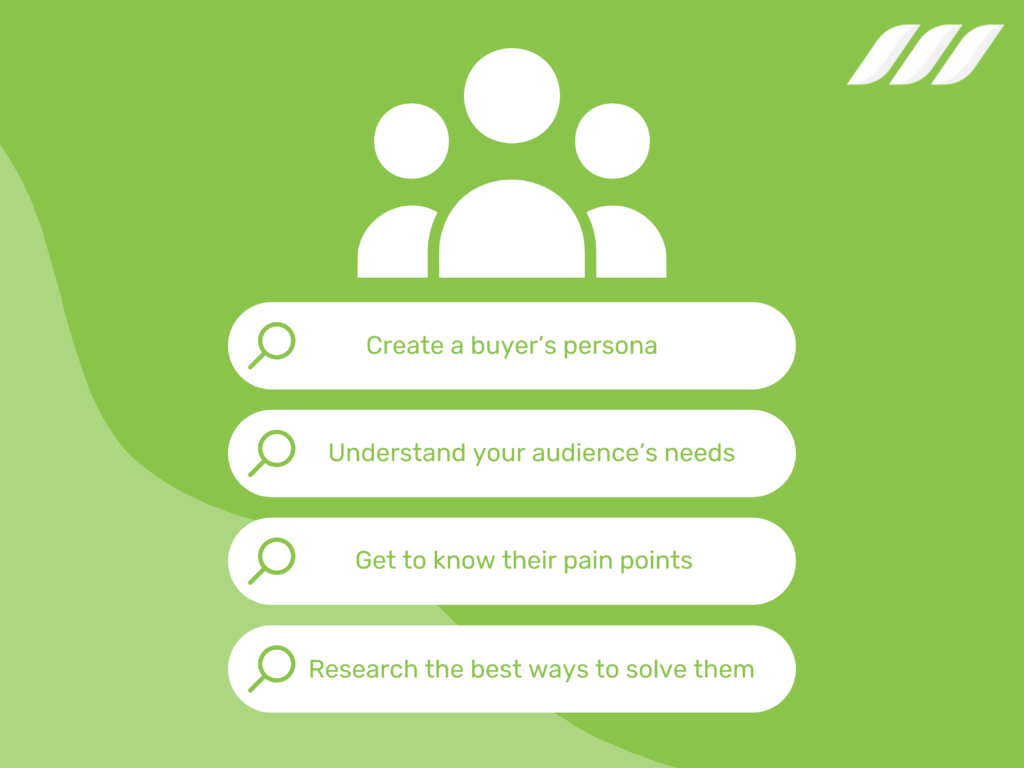 Knowing your audience is a crucial aspect of any successful email drip campaign. You will need to clearly understand the needs and interests of your target audience to create effective drip emails.
For that, you must:
Create a buyer's persona.
Understand your audience's needs.
Get to know their pain points.
Research the best ways to solve them.
You can do this by conducting surveys, reading customer reviews, and interviewing your existing customers.
2. Start With a Clear Goal
Whether you're trying to generate leads, convert existing customers into repeat buyers, or onboard new users, you must have a clear goal for your drip email campaign.
To do this, you might want to ask yourself:
What do I hope to achieve with my drip campaign?
How will I measure success?
Who is my target audience, and how can I best reach them?
Do I need to make any changes based on analytics data?
Your goal could be increasing brand awareness, customer engagement, or sales for a new product or service. Whatever it is, ensure to be specific!
3. Choose the Right Marketing Platform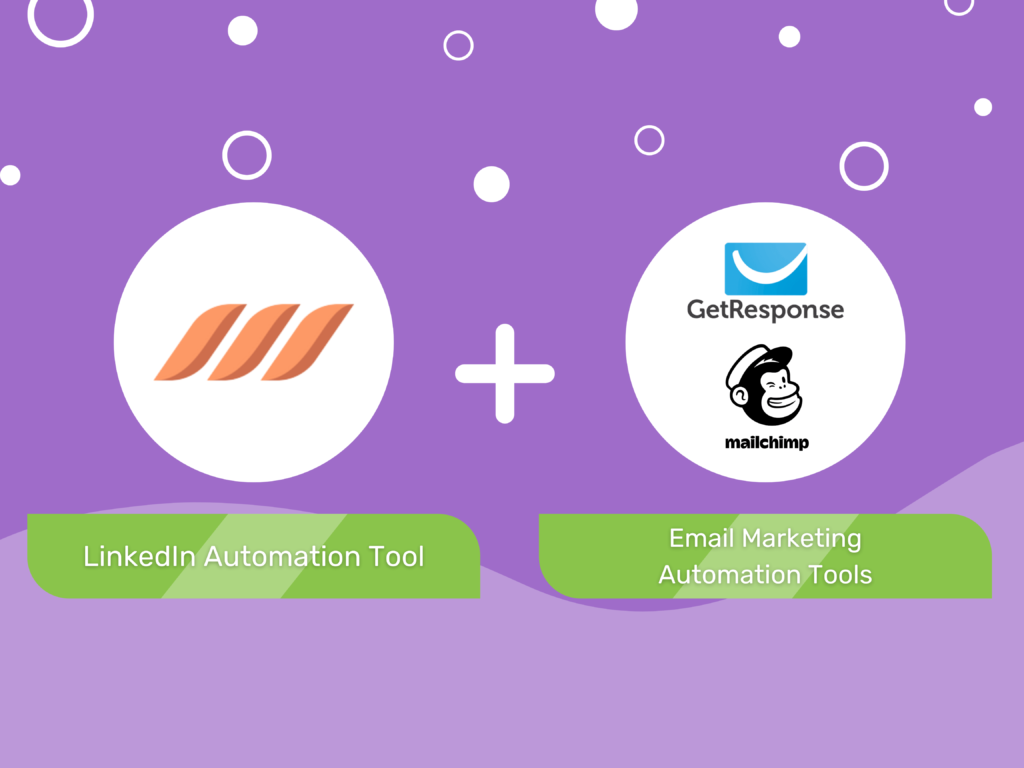 Many different email marketing platforms make creating engaging email campaigns and automated workflows super easy. But which platform is best for your business depends on your goals. For example, if you want to use LinkedIn marketing, you must use the combination of the following:
As such, it is always a good idea to determine which tools and platforms best align with your goals and budget.
4. Create a Marketing Funnel
Creating a marketing funnel that maps out where each customer is in their journey is essential for a successful drip email campaign.
To create a marketing funnel:
Identify your key customer stages or segments, such as new leads, existing customers, and customers at each stage of the buyer's journey (to name a few).
Use this information to create content that engages your target audience at each stage.
Arrange your content and drip emails logically to guide users through your funnel and convert them into customers.
5. Write a Compelling Email Copy
Once you have identified your target audience, you can start creating content that will catch their attention and keep them engaged throughout the campaign.
In your email copy, you can:
Tell a story.
Highlight benefits, not features.
Address pain points
Talk about the challenges of your audience.
Provide value through interesting or useful information.
Plus, using short and simple language is vital to keep users engaged and interested throughout the campaign.
Outreach marketing is important for a successful drip email campaign, so ensure to incorporate it into your marketing strategy.
6. Create and Launch Your Campaign
Once you have your marketing funnel and email copy, it's time to create the actual drip campaign. Your email marketing's success depends on how you plan, create, and launch your email drip campaign.
But generally, you will need to create a series of emails sent automatically at specific intervals based on the user's actions or behaviors.
7. Analyze & Improve
No matter how well-designed and effective your email drip campaign is, you'll need to measure its performance and identify areas for improvement. This will help you optimize your marketing efforts and get better campaign results.
Email outreach tracking helps you measure your campaign performance. You can use these metrics to track your performance:
Open rates
Click-through rates
Conversion
You should also continuously test and optimize your campaign over time to get even better results. And with these tips in mind, you're ready to start creating your own successful email drip campaign!
Top 15 Best Email Drip Campaign Examples
One way to create an effective email drip campaign is to model based on your learnings from some of the best examples.
This section will look at 15 of the best email drip campaign examples and see what makes them work so well. So, brace yourself for some inspiration!
1. Zendesk's Onboarding Drip Campaign
You can create an email drip campaign to walk your audience through what comes next.
Zendesk's onboarding drip campaign is a great way to ensure that your new users take the right steps in their buyer's journey. By setting up a campaign that's triggered based on their activity (or inactivity!), they're getting the help they need.
And don't forget to give your new users a guided demo of the actions you want them to take!
Zendesk also offers a guided product demo to help its users get started and make the most of this powerful tool. With helpful content, engaging visuals, and targeted messages, it's no wonder that Zendesk's campaign stands out.
Their onboarding sequence was fantastic! The team went above and beyond for their new users, even sending personalized emails from a company email as part of the process.
2. Bellroy's After-Sale Drip Campaign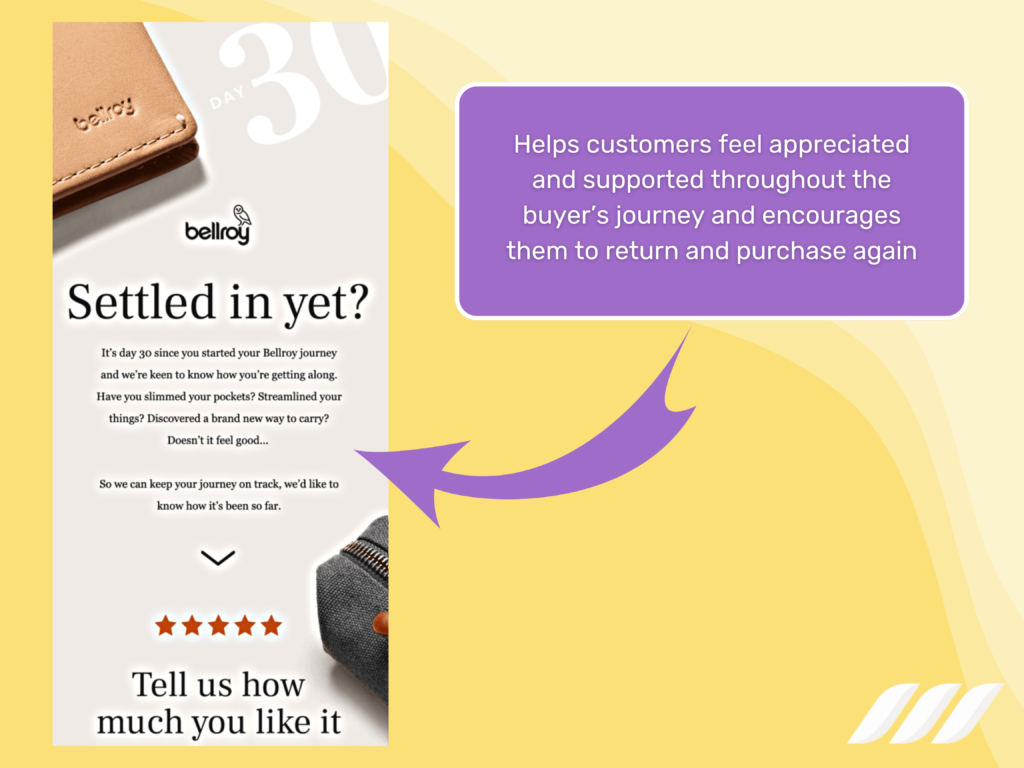 So finally, you got the well-deserved sale or the abandoner to finish their order. How would you follow up with them?
Bellroy is a company that makes slim wallets and other leather goods. They have an amazing post-purchase drip campaign that engages customers and gets them to provide feedback.
Bellroy is a great example of an after-sale email drip campaign. Not only do they send automated messages to let their customers know that their order has been shipped, but they also include other information, such as:
Tracking details
And product recommendations.
This helps customers feel appreciated and supported throughout the buyer's journey and encourages them to return and purchase again.
Overall, Bellroy's after-sale drip campaign is a great example of how to build customer loyalty with timely, relevant messages. Their email marketing is expertly crafted and highly effective at engaging customers and driving revenue.
3. SkinnyDip's Website Re-Targetting Drip Campaign
Isn't it amazing when your favorite brand reaches out to you to ask if everything is fine?
SkinnyDip is a fashion brand that sells colorful, trendy accessories for women. They have an excellent website re-targeting drip campaign that keeps their customers engaged and returning to the site.
With its email marketing drip campaign, SkinnyDip constantly reaches out to its customers with personalized messages and recommendations. Sometimes, they even target users who have visited the site but haven't made a purchase yet.
By engaging its customers this way, SkinnyDip can keep its brand top-of-mind and encourage more people to come back and shop on its website. And with beautiful designs and high-quality products, it's no surprise that their customers love them!
If you want to create an engaging website re-targeting drip campaign like SkinnyDip, stay up to date with your customer's feedback and preferences and use targeted messaging to keep them engaged.
4. MailChimp's Best Practices Drip Campaign
How would you like to receive informative emails about best practices for your favorite tool?
MailChimp is a popular email marketing platform that offers easy-to-use tools for beginners and experts alike. The company constantly shares helpful tips and resources with its customers through email drip campaigns.
Their drip campaign includes everything from tips on using the platform effectively to best practices for email marketing. They also include videos, infographics, and other resources that help their customers get the most out of MailChimp.
To create an effective email drip campaign like MailChimp's, ensure it's regularly updated with fresh content and relevant resources to your customers. You should also remember to reach out to your customers with personal, helpful messages, as this is what will keep them coming back for more!
5. Shutterstock's Customer Feedback Drip Campaign
Shutterstock is a stock photo and video platform that helps businesses easily find high-quality images and videos for their marketing campaigns. They have an excellent customer feedback drip campaign that encourages users to leave reviews on the site.
With their email marketing drip sequence, Shutterstock sends emails to their customers asking them to share their feedback about the platform. Their emails are personalized and friendly, helping customers feel appreciated and valued.
If you're looking for a way to get valuable feedback from your customers, set up a customer feedback drip campaign like Shutterstock's. By sending out regular emails to your customers that request their input, you can build better relationships with them and improve your product or service based on their feedback.
6. "Twelve Days to Trello" Holiday Drip Campaign
Trello's "Twelve Days to Trello" campaign is a unique and aggressive way to promote the product during the holiday season. The campaign offers a series of emails highlighting the product's features and benefits.
One of the great things about this campaign is that it was specifically designed for the holiday season. This means that subscribers are more likely to be interested in the content as they are already in a festive mood.
Another advantage of this campaign is that it provides useful information about Trello. The emails are packed with tips and tricks on using the product, making it an excellent resource for subscribers.
The downside of this campaign is that it might be too aggressive for some people. Some subscribers might not appreciate being bombarded with promotional content during the holidays.
However, for those interested in learning about Trello, this campaign is a great way to get acquainted with the product.
7. Paul Mitchell's Unsubscribe Email Drip Campaign
Paul Mitchell is a well-known brand that specializes in hair care products. While they have many loyal customers, some people might unsubscribe from their email list for various reasons.
To keep people engaged even after unsubscribing, Paul Mitchell has created a clever drip campaign showcasing a break-up love story. The emails are conversations between two people who have broken up but remain friends.
This campaign is a great way to keep people engaged even after unsubscribing. By humanizing its subscribers, Paul Mitchell has kept them interested in the brand and prevented them from losing touch with their business.
You never know when one email will change your subscriber's mind.
8. Kenneth Cole's Cart Abandonment Email Campaign
If you are into eCommerce, you already know the challenges of cart abandonment. If people add products to their shopping carts and never finish the order, it can be a major source of frustration for your business.
Kenneth Cole is a well-known brand that sells high-end men's shoes and accessories. To combat cart abandonment, Kenneth Cole has implemented an effective email drip campaign that encourages customers to complete their orders.
Their cart abandonment campaign involves a series of emails that highlight the benefits and value of the products. They also offer discounts or free shipping to entice people to complete their purchases.
The campaign also offers them an extra discount for finishing their order in a certain time. For example, the first email might offer 15% off if they complete their order within 24 hours.
If you are struggling with cart abandonment in your eCommerce business, get inspiration from a similar drip campaign to encourage people to finish their orders.
Related article: How to Find eCommerce Clients on LinkedIn
9. Netflix's Win-Back Email Campaign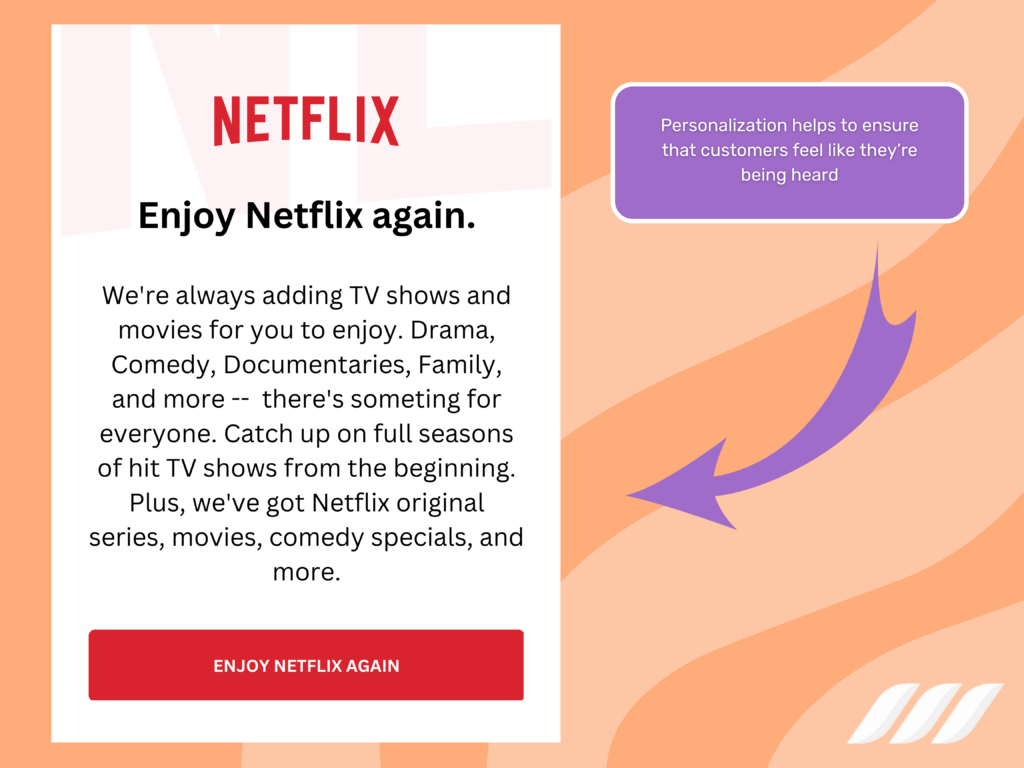 Netflix is no stranger to the losses incurred by lost subscriptions. To combat the issue, they have created an intelligent win-back email campaign.
The first email in the campaign is sent immediately after someone's subscription lapses. The title of the email confirms their cancellation, but the email asks if they're having trouble logging in or if there was a problem with their billing.
Suppose the customer responds that everything is okay. In that case, Netflix sends personalized emails over the next week or two until the customer either responds or is marked inactive.
Netflix has found that this campaign has reduced its churn rate and boosted engagement. Personalization helps to ensure that customers feel like they're being heard, while the frequency of the emails reminds them of what they're missing out on. Choose the best email personalization strategy for your business.
10. Amazon's Upsell Email Campaign
Amazon sends out an email to their customers offering them a free month-long Kindle Unlimited subscription. This campaign is a great way to encourage people to purchase other products from the Amazon ecosystem or to simply keep them engaged with the brand.
The emails feature personalized recommendations based on the customer's previous purchases, highlighting books and music they might be interested in.
You don't have to do or pay anything. The only thing you have to do is click the "Claim offer" button. And that's just it! And the offer has an expiry date, so it's important to claim it before it runs out.
If you want to increase your sales and keep people engaged with your brand, use an upsell email campaign like Amazon's.
11. Airbnb's Rental Recommendation Campaign
Airbnb's rental recommendation campaign would remind users to book accommodation if they left the app without deciding on a rental. This is a great way to remind users of their options and ensure they can book the rental they want.
We love that Airbnb does this, as it helps users feel more confident about their choice and makes it easier for them to book.
To start running a rental recommendation campaign of your own, you must gather information about your users' actions, interests, and past rentals. Then, set up an automated email campaign to send people recommendations based on their preferences and previous bookings. That's smart marketing at its best!
And if you visit Airbnb, search for your accommodation, select one, and immediately abandon the booking process, you'll get this email.
12. Grammarly's Reminder Drip Campaign
Grammarly helps you write better and improve your grammar. They have implemented a smart reminder drip campaign to encourage people to use the tool.
If you don't check your content using Grammarly, the software sends an email reminding you to do so. They said that they noticed you had not checked for grammar errors, so they want to help you fix those mistakes.
What we love about Grammarly's reminder email campaigns is that they are to the point. They also use personalized language and make it easy for users to take action with a simple CTA.
That's not all. Grammarly's welcome email is an amazing example of how you can help your customers start playing with the tool. It also sends out an email campaign to educate users on how the tool works and how it can help them write better.
Grammarly users can also opt from three email campaign preferences:
Weekly Progress Report
Product Updates
Premium Offers
This is a great way to build trust and engagement with your users and to keep them coming back for more! We can learn a lot about serving people with customized email campaigns.
13. Patagonia's Weather-Based Recommendations Campaign
If you're familiar with the brand, then you know that Patagonia is all about selling outdoor gear. As it turns out, they're also quite good at marketing their products!
Patagonia's weather-based recommendations campaign is a great example of email marketing targeting subscribers based on their location and current weather conditions.
The campaign begins with a welcome email with a personalized weather report for the subscriber's location. The next email in the series includes a product recommendation tailored to the current weather conditions.
For example, the email might recommend buying a coat if it's cold outside. Most probably, you, as a customer, are also thinking about getting warm clothes this season.
So, they just got to you at the right time, and it's not difficult to convince you to buy by giving a warm recommendation.
This campaign is a great way to increase sales by providing subscribers with tailored product recommendations relevant to their current location and weather conditions.
14. Leesa's Limited Offer Drip Campaign
The team at Leesa knows how to do it right when it comes to limited offer drip campaigns. Their campaign starts with a bang, offering a whopping discount off the original price. But that's not all! The team also includes a powerful sales trigger in the email: the fear of missing out.
Not only does this create a sense of urgency, but it also encourages subscribers to take immediate action. And with an X% off the original price, who could resist?
They usually roll out such a limited offer on Black Friday, so if you are interested in getting a good deal on a premium mattress, watch out for their next offer.
With targeted product recommendations, effective sales triggers, and a big discount, Leesa's marketing team is doing an amazing job of getting sales.
15. Dollar Shave Club's Cross-Selling Drip Campaign
Cross-selling email campaigns are a great way to increase customer loyalty and drive more sales. They target customers who have already shown an interest in your products. This means that you are not wasting time and money on marketing.
Cross-selling email campaigns also offer personalized product recommendations based on the customer's order history and preferences. And it's easy to implement and integrate into your existing marketing strategy with minimal effort.
For example, Dollar Shave Club's cross-selling drip campaign helps their customers know the delivery date so they can plan for the arrival of their new subscription. And the best part is that the email recommends the relevant products using the CTA, "Add before we ship."
Not only does it summarize the customer's order, but it also gives them a fantastic opportunity to buy additional items that complement their initial order. The email is smart and elegant; it doesn't scream, "buy me now!"
This cross-selling drip campaign is a great way to increase sales and boost customer loyalty. You can learn a lot of things from this campaign.
These campaigns play an important role in lead generation. And Dripify helps you to generate leads and make your sales efficient. It's an amazing tool to use if you want to improve your lead generation on LinkedIn and marketing results.
Conclusion
Drip campaigns refers to the process of sending out t emails over time to achieve your desired business outcome. Drip campaigns are commonly used by businesses looking to acquire new customers, retain current customers, drive repeat purchases or increase sales during a specific time period.
It's no secret that creating a successful email drip campaign can boost your ROI! But it takes time, effort, and planning to achieve success with drip campaigns. One of the best ways to start enjoying the benefits of a successful campaign is to get inspiration from the top brands in the industry.
That's why we have shared the best email drip campaign examples in this guide so that you can start your successful drip campaign.
In addition, we have shared the ingredients of successful marketing campaigns and the key steps for getting started with creating drip email campaigns.