The idea of using GIFs on a professional networking site might seem strange to many of us. But is it really that weird to include moving images in a place meant for professionals to share their skills and expertise? We don't think so. In fact, these little animated characters are making their way into our everyday lives more and more often.
But did you know that posting GIFs on LinkedIn is too much work? First, you must find a GIF and then download it. Next, find a relevant post or comment thread where you'd want to add the GIF. The good news is that we're here with the easiest solution to this minor inconvenience!
Read on to learn how to conveniently add GIFs to LinkedIn posts or comments and make the network fun and enjoyable!
Does LinkedIn Let You Post GIFs?
To stand out in the social media world's new visual landscape, you must go beyond the standard text-based content. For this reason, LinkedIn allows you to post GIFs.
With hundreds and even thousands of users scrolling past your LinkedIn posts in seconds, you want to create something that stands out without being distracting. That means keeping things simple and striking while still being professional.
If you have some funny reactions to your presentation or are about to launch a campaign that's as quirky as can be, why not post them on LinkedIn along with GIFs? It might seem like an unlikely place, but a well-placed GIF can show off your personality, get your personal brand across, or even just make your post more interesting.
How to Put a GIF in a LinkedIn Post
Now that you know the effectiveness of GIFs, here's how to put one on a LinkedIn post.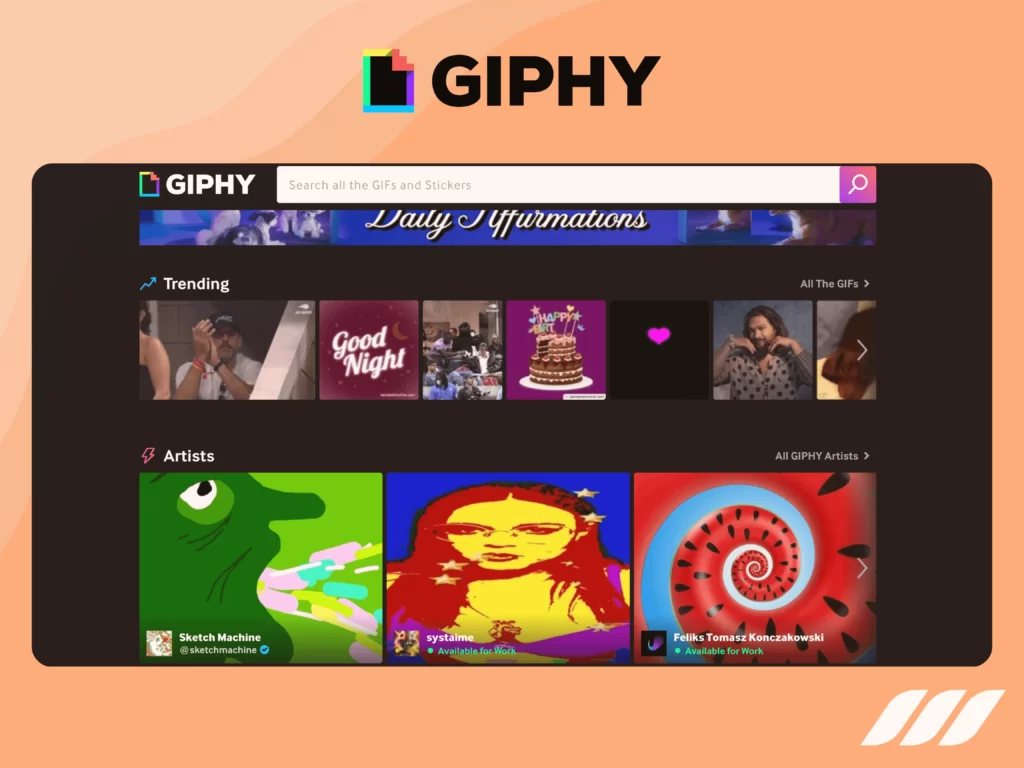 Open your LinkedIn account, browse through the feed and pick a post you want to comment on.
Press the 'comment' icon, and you will see a GIF icon at the bottom right corner of the comment box.
Click on that icon, and you will see a full collection of GIFs.
Choose the GIF you want to post, click on it, and hit post!
Now that you know how to put a GIF in a LinkedIn post, it's time to leverage the power of these little moving images.
Why Use GIFs on LinkedIn
Adding GIFs in comments and posts can help your LinkedIn Company Page or personal account in many ways. Here're some reasons why it is a good idea to use GIFs on LinkedIn:
Because it is fun, DUH!
It helps you express your feelings more than a LinkedIn emoji.
You can make your LinkedIn visually entertaining and appealing.
Take notes: A GIF is worth a thousand words!
LinkedIn GIFs in Comments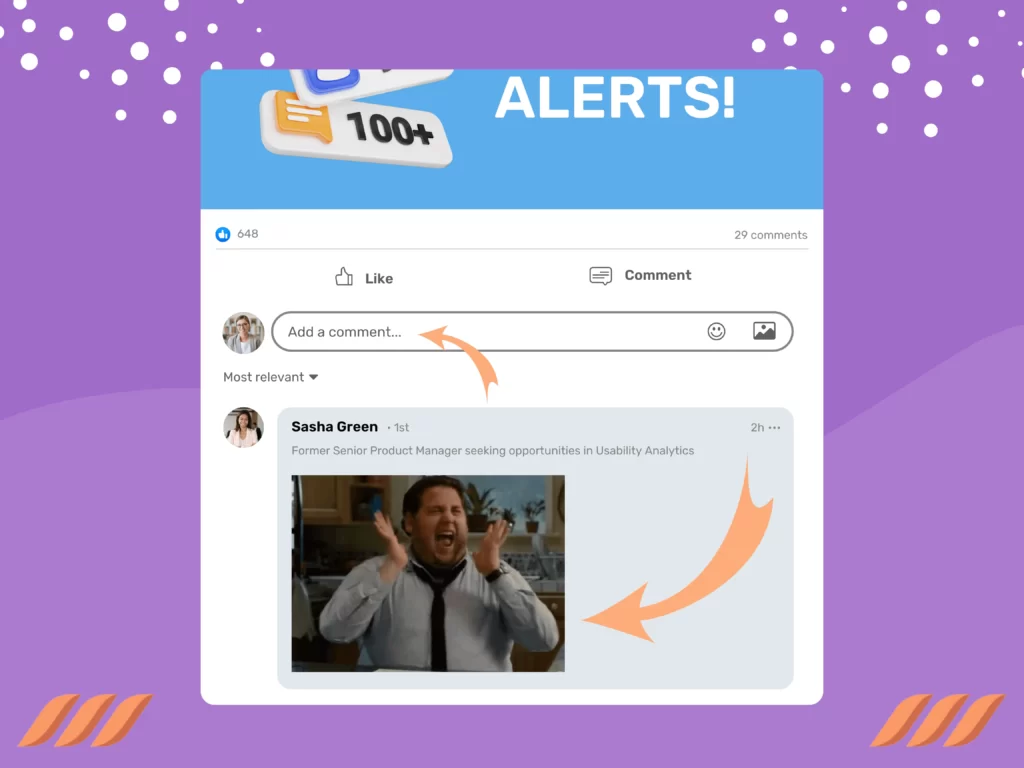 It is good to use GIFs in LinkedIn comments more than in posts. GIFs help you keep your comments short, to the point, and punchy; nobody likes long comments anyways! Plus, it helps you cut through the noise and get noticed amid the hundreds of cluttered comments. And finally, if your comment gets more attention and reactions, you may want to turn it into a post!
Animated GIF in a LinkedIn Post
LinkedIn is about getting attention, attracting your target audience, and selling your services, right? But, given that millions of posts are made on the platform each day, it can be challenging to have your post noticed. That's where animated GIFs can help your post garner attention!
Animated LinkedIn posts GIF can make your content look unique, attractive, and captivating. Out of the hundreds of text-filled posts, your post with animated and creative GIFs will surely grab the attention of your target audience and trigger engagement. In fact, many experts agree that animated GIFs work fine in LinkedIn posts, specifically!
Benefits of Using LinkedIn GIFs
Here are 3 key benefits of posting GIFs on LinkedIn comments and posts.
1. Fun Audience Engagement
Using GIFs on LinkedIn is a fun way to engage your audience in conversations. For example, when you post a GIF on LinkedIn, your connections reply in GIFs, and so on.
2. GIFs as Icebreakers
Did you know that GIFs work as the best icebreakers on LinkedIn? If you want to start a conversation with someone, consider reacting to their posts or comments with GIFs. If they like your GIF, they will send a GIF back. This may lead that person to frequently engage with your posts.
3. Witty and Humorous
GIFs add a witty touch to your posts and comments, and these two always captivate and grab people's attention.
Conclusion
So, are you ready to up your professional branding game on LinkedIn by adding some visual pizzazz with GIFs? This post has covered everything you want to know about posting GIFs on LinkedIn. So, what are you waiting for? Start using GIFs on LinkedIn and get noticed!