LinkedIn is an excellent platform for professional networking and career advancement. But did you know that you could go incognito and activate the LinkedIn private mode so that your connections or leads don't get a notification when you've viewed their profile?
Yes, LinkedIn offers transparency in viewing activities, but it also provides you with privacy features. One of the best things about LinkedIn is probably getting a notification that someone viewed your profile. Conversely, maybe the worst thing is when someone else is notified that you've viewed their profile. And that's why you should know how to view a LinkedIn profile in private mode. There are varying degrees of privacy available on LinkedIn, and we'll go over them one after the other.
Although sometimes it can be useful letting the other person know when you've checked them out (such as during a recruitment process), most times people prefer to keep their activities private.
This useful guide will show you how to search in private mode on LinkedIn.
What is Private Mode on LinkedIn
Different people have different reasons for staying anonymous when they browse in private mode on LinkedIn. Job seekers may want to remain anonymous while reviewing prospective employers and companies. In contrast, recruiters may want their leads to get a notification to give them a heads-up before reaching out.
Depending on your purpose, you can turn the private mode LinkedIn ON or OFF. And you can do it even if you don't have a LinkedIn premium account.
By default, when you're browsing through LinkedIn, other users are getting your profile information. What this implies is that when you visit a user's profile, LinkedIn notifies the person whose page you viewed. And they can view your profile in return if they want to for any reason. But when you turn on private mode, your activity will be hidden, and your lead won't be notified about who viewed their profile.
This is useful when you want to stay anonymous because you will appear as either Anonymous LinkedIn Member in private mode or as your job title in semi-private mode.
Why Use Private Mode on LinkedIn?
There are many reasons you'd want to browse in private mode LinkedIn. For some recruiters and those checking out the competition, it's best not to let them know you're on their trail. You can search in private mode on LinkedIn without letting your connection know you're viewing their profile. You will find that this comes in quite handy when you want to maintain anonymity.
How to View LinkedIn Profile in Private Mode
Want to activate private mode LinkedIn and browse user profiles anonymously? Follow these simple steps:
Private Mode On Desktop
To turn on LinkedIn private mode on your desktop, here's what you need to do:
Go to your LinkedIn profile.
Select the drop-down arrow under your profile icon in the upper righthand corner of your screen.
From the drop-down menu, go to Account > Settings & Privacy.
Click on Privacy at the top.
Select how others see your LinkedIn activity.
If you have an older version of LinkedIn, go to the menu on the left and select Visibility > Visibility of your profile & network.
Select Change next to the Profile viewing options.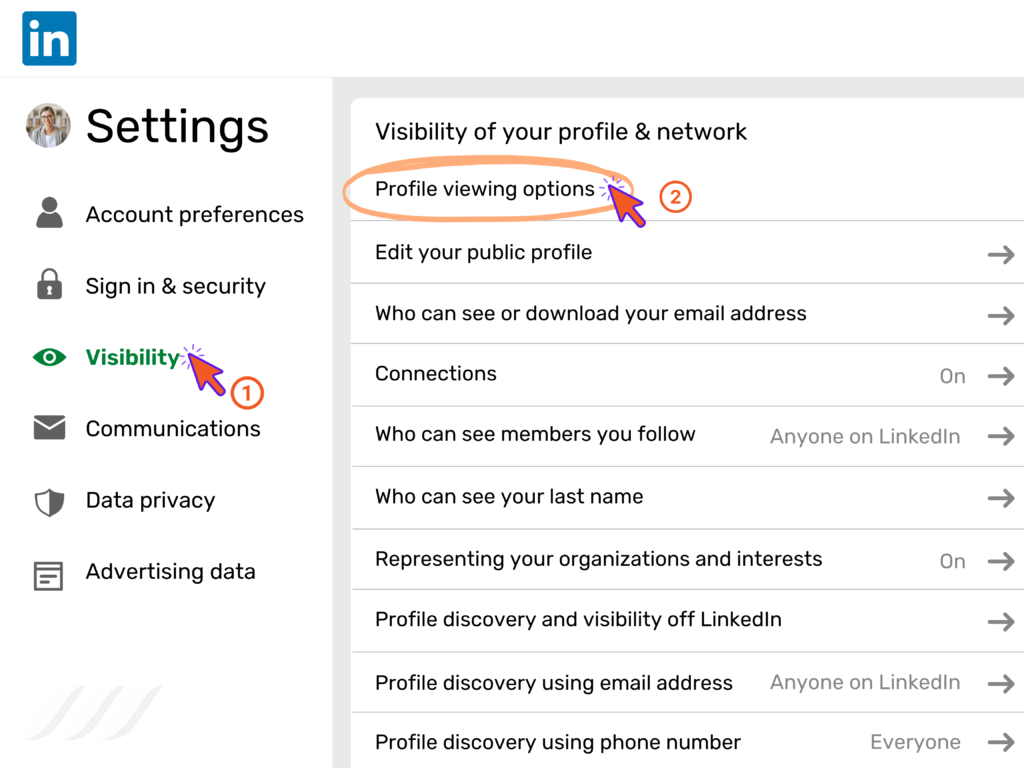 Then pick one of the three different modes: Public (with your name and headline visible), semi-private (with your profile characteristics visible), or private (no personal information visible).
All your changes will automatically be saved on LinkedIn. You must remember that when you go incognito on LinkedIn, it will also erase your viewer history, which means you wouldn't get notifications when someone views your profile.
Private Mode On Mobile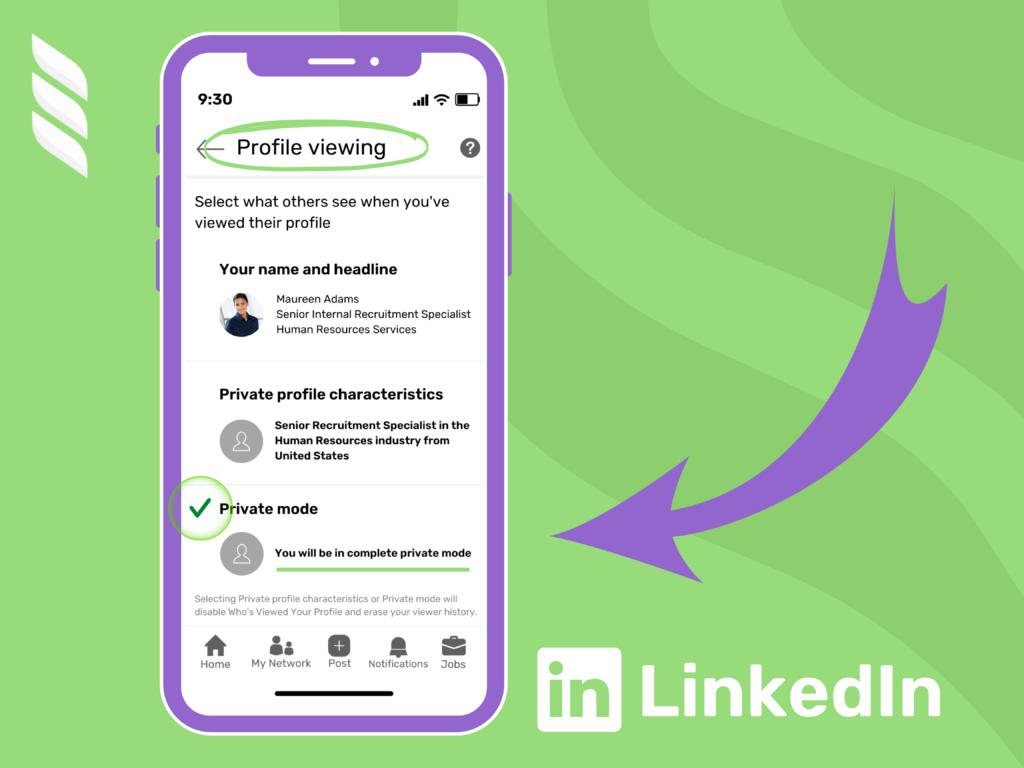 If you use LinkedIn on your smartphone more than on your computer, here's how to enable the LinkedIn private mode in the app.
Open the LinkedIn app on your smartphone and tap on the profile icon in the upper-left corner of your screen.
Select Settings.
Scroll down and select Visibility.
From the Visibility menu, select Profile viewing options.
Pick one of the three modes you want to apply to your profile: public, semi-private, or private.
If you want to make further changes to how your profile and data are presented to other users, you will need to switch to the desktop or use your browser.
How to Make the Most of Private Mode on LinkedIn
There are various ways you can make the most out of searching LinkedIn in private mode. Let's look at a few examples of utilizing this handy little feature – and it all depends on your objectives and campaign goals.
LinkedIn Private Mode for Growing Your Network
If you're just getting started, it would be a good idea to search in private mode on LinkedIn. It will help you look around at others in your industry and give you ideas on how to improve your own profile.
That's because if your profile isn't entirely optimized for your career or business, you may not want to connect with too many people immediately. You want to ensure that you tailor your profile for your niche and let clients know how you can help them.
And for that, it's a good idea to learn how to browse in private mode on LinkedIn and then start taking inspiration from other profiles. Once you're ready, you can turn off private mode in LinkedIn. You may even want to connect with the people whose profiles you checked out to optimize your own!
Related article: How to Search for LinkedIn Premium Members
LinkedIn Private Mode for Lead Generation
When generating leads on LinkedIn, it is a good idea first to view them in private mode before you make an official outreach. That's because when you're making a list for a cold audience, it's best not to give away that you're interested in reaching out to them – let that be a surprise!
Instead, you can turn off private mode when you're done generating leads and are ready to connect. Make sure you send a personalized and slightly flattering connection request. Doing so will increase the likelihood of the candidates accepting your connection and responding to your message.
LinkedIn Private Mode for Doing Competitor Research
This is actually a handy and practical application of the LinkedIn private mode. When doing competitor research, it's best not to notify them that you're checking them out.
You might also find the "People also viewed" valuable feature for identifying other competitors or potential opportunities.
LinkedIn Private Mode for Recruiters
Talent acquisition personnel also want to browse LinkedIn in private mode to put together a list of strong candidates for the job. This works the same way as using LinkedIn's private mode feature for lead generation. You don't want to indicate any giveaway yet that you're about to recruit people.
Once you finish shortlisting, turn the private mode off and then formally approach prospective candidates. You can let them know that you've gone through their profile and think they would be a good fit for your position.
How Others See Your LinkedIn Activity
There are varying levels of privacy that you can achieve on LinkedIn, depending on your career, lead generation, or networking goals.
The Full Profile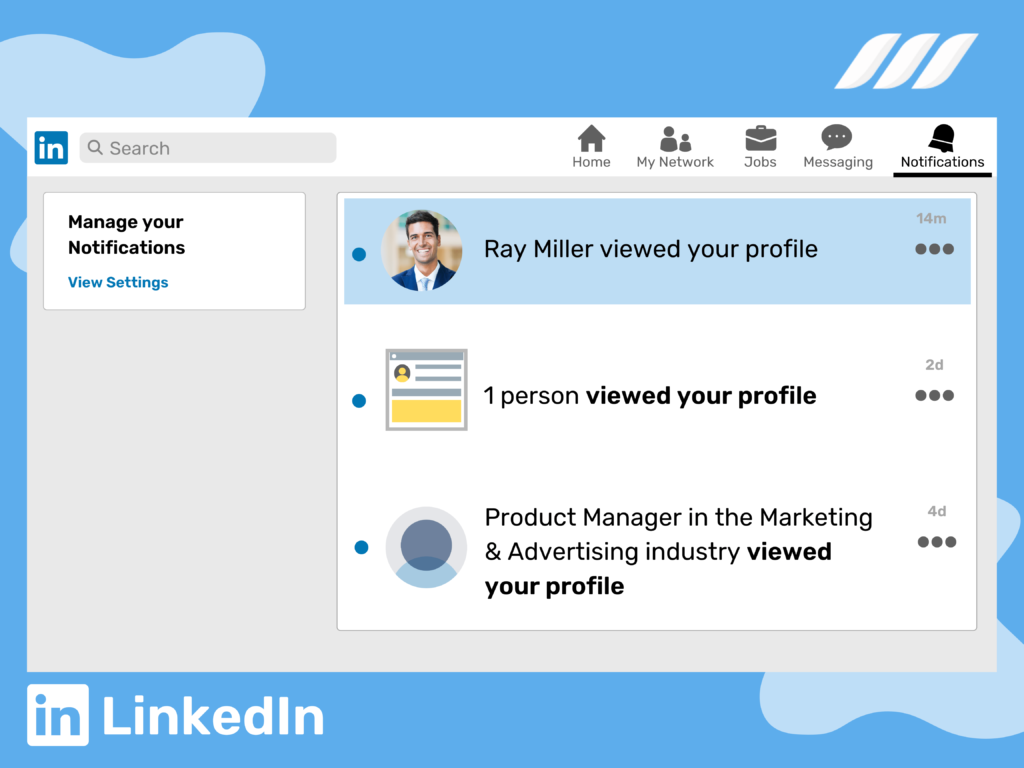 The full profile setting shows other users your name, title, headline, and how many connections you have. This setting is an excellent way to have other users browse through your profile – but you must first make sure that your profile is complete! This is your chance to showcase your skills, achievements, and projects. It will allow other users to gauge how well you can fit into their organization if they're looking to recruit.
Private Mode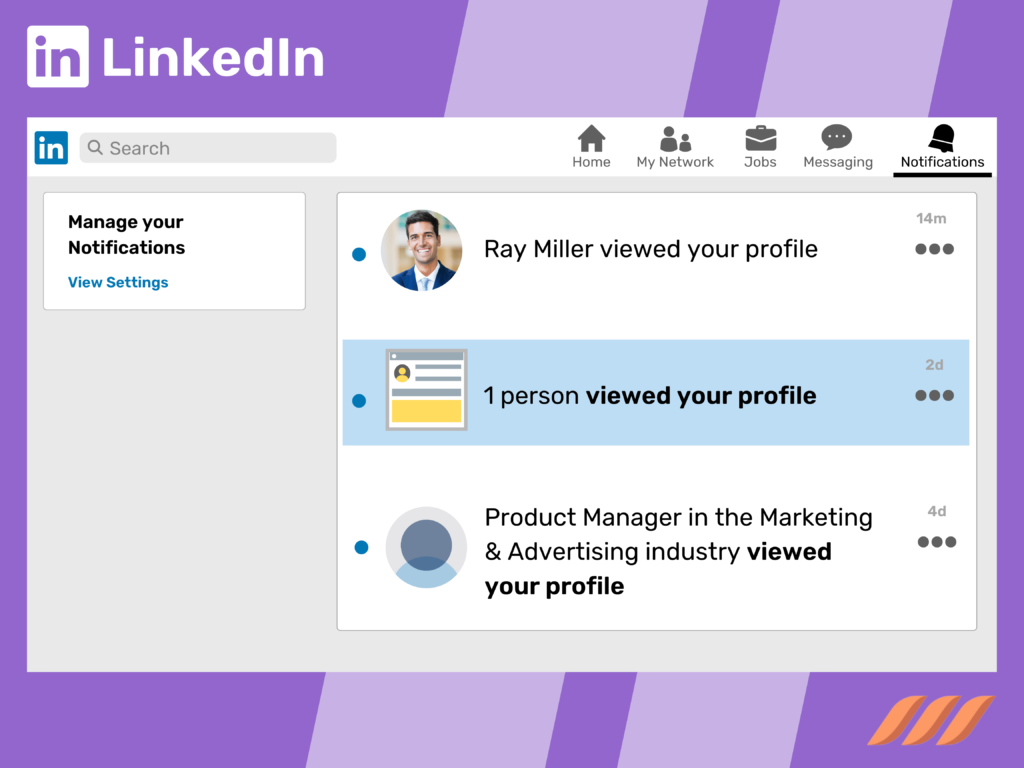 In private mode, your profile will be totally anonymous. While browsing through LinkedIn, users will be notified that someone has viewed their profile, but your profile details will not appear. Instead, you will simply appear as a LinkedIn Member to the user whose profile you just viewed.
Semi-Private Mode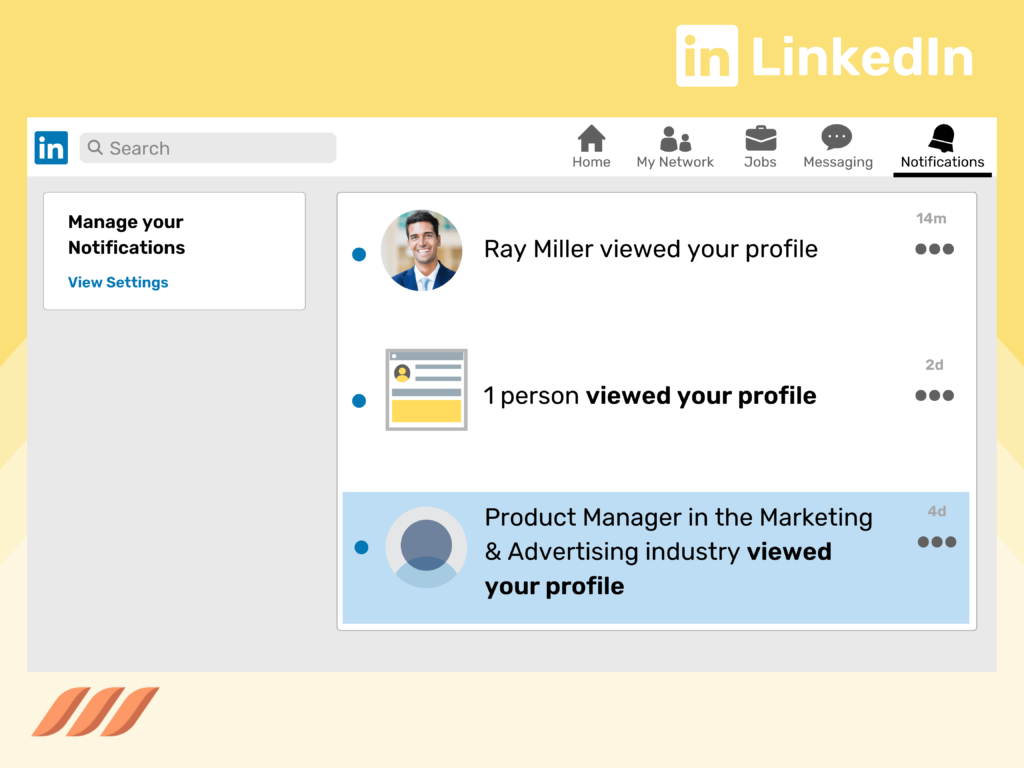 When you browse through LinkedIn in semi-private mode, your name won't be visible, but your details such as job title, company, or school will be shown. Suppose you're a headhunter and you viewed someone's profile in semi-private mode. In this case, they will be notified that someone with the job title of Headhunter viewed their profile.
However, some things to note are that you won't be able to see who viewed your profile in semi-private or private mode if you have a basic free account. The only way to do that is to leave your account privacy at Full Profile or upgrade to a premium account. And even in an upgraded profile, LinkedIn will not show you who viewed your profile if they had private mode ON.
Should You Activate Private Mode on LinkedIn?
While it may be helpful sometimes to view in private mode on LinkedIn, the truth is that LinkedIn is meant for networking. As such, you may lose out on that opportunity by maintaining anonymity. So try not to use private mode for too long.
After all, if someone receives a notification that you viewed their profile, they will be naturally curious to have a look at your profile in turn. And this is your chance to expand your opportunities and network with others in the arena.
You can message someone who's viewed your profile and ask them if there is anything you can help them with – offer your services and see where it takes you.
However, if you're doing valuable research and don't want to reveal your identity (yet), the private mode is a good option for you. It all depends on your objectives and goals. Let's say you're researching your competitors. In such a case, it's a good idea to do so in a private mood because you don't want your competitors to know that you're checking their profiles.
How to Turn Off LinkedIn Private Mode
Once you're done with using private mode on LinkedIn for your purposes, you should turn it off so that you have the opportunity to network again.
All you need to do is follow the steps we listed above to turn the private mode on and use it when it fits your purpose. And you can follow the same steps to turn off your private mood, except that you'll select the full profile or public option to make your profile visible again.
Conclusion
LinkedIn has a reputation for being transparent, the incognito option is no longer just limited to the Google Chrome browser. Individuals whose top priority is privacy can flick on the private mode of LinkedIn. This ensures that your connections don't receive a notification when you visit their profile. Hence, saving your online reputation and making sure that you don't receive any tag which may drive away your potential customer.
So, next time when you want to view a profile on Linkedin while staying anonymous, follow the simple steps mentioned above. Whether the reason to be private is personal or you wish to track your prospect's activities, it's bound to come in handy.
If you are looking at your employer's profile while you are still employed, you might want to keep your profile hidden. Thanks to the incognito mode option available on the premium version.
And, if you are doing the complete opposite by visiting the employer's profile and want them to revert back to your profile, try Dripify. Its LinkedIn profile writing service will rebuild your profile content that is totally revised, organized, optimized, and stuffed with pertinent keywords.